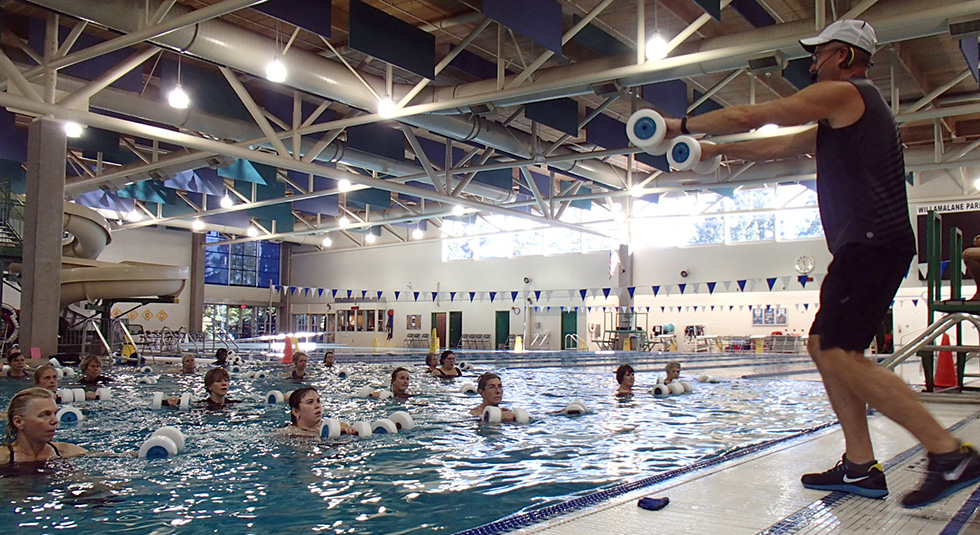 HYDRO-FIT Academy 2017
Saturday, September 23 & Sunday, September 24, 2017
Willamalane Park & Swim Center
or BY PHONE 800-346-7295
Full Weekend | 16.0 AEA CECs | $345
Single Day | 8.0 AEA CECs | $195
The Academy is HYDRO-FIT's premier instructor training event offering two full days of in-depth workshops with cutting edge education for water exercise instructors and fitness professionals. The two-day format devotes one day to shallow water training (Saturday) and the second day to deep water training (Sunday). Nine all new workshops are featured this year from presenters Craig Stuart, Steph Toogood, Terri Mitchell, Lori Templeman, Cassie Biddulph and Marilyn Hinson. Register for the Full Academy Weekend or a Single Day. Want to attend an individual Course? Please call us at 800-346-7295 to determine availability.
Our host facility is Willamalane Park & Swim Center located in Springfield, Oregon. Willamalane houses three indoor swimming pools: an eight-lane 25-yard lap pool, an adjacent warm water exercise pool, and a separate deep water diving well. The pools are large and the water clarity is exceptional. A spacious and comfortable lecture room is directly adjacent to the pool areas for quick and easy transitions from classroom to pool.
HYDRO-FIT Academy 2017 Schedule at a Glance
Saturday, Sept. 23 Shallow Water Focus Day
8:00 – 8:45 am Opening Session

8:45 – 9:45 am Aqua Alignment / POOL — Hinson
9:45 – 10:45 am Disco Waves / POOL — Biddulph
10:45 – 11:45 am Loaded Movement Training / Classroom — Mitchell
11:45 – 12:45 pm Loaded Movement Training / POOL
1:00 – 2:00 pm Lunch
2:00 – 3:00 pm Hand Buoy ABCs / Classroom — Toogood
3:00 – 4:00 pm Hand Buoy ABCs / POOL
4:00 – 4:15 pm Break
4:15 – 5:15 pm AquaLogical Legs / POOL — Mitchell
5:15 – 6:15 pm AquaLogical Legs / Classroom
Sunday, Sept. 24 Deep Water Focus Day
8:00 – 8:30 am Opening Session

8:30 – 9:30 am Newton Goes Deep / Classroom — Templeman
9:30 – 10:30 am Newton Goes Deep / POOL
10:30 – 10:45 am Break
10:45– 11:45 am Deep Water Running / POOL — Stuart
11:45 – 12:45 pm Deep Water Running / Classroom
1:00 – 2:00 pm Lunch
2:00 – 3:00 pm Deep ABC Training / Classroom — Toogood
3:00 – 4:00 pm Deep ABC Training / POOL
4:00 – 4:15 pm Break
4:15 – 5:15 pm Deep H2O Tool Box / POOL — Stuart
5:15 – 6:15 pm Deep H2O Tool Box / Classroom
Course Descriptions
Saturday 8:45 – 9:45 am | Aqua Alignment
Learn how to apply Pilates alignment principles in the aquatic environment. Experience HYDRO-FIT movement vocabulary while analyzing the "way" and the "how" to attain and maintain excellent posture and form. Explore a simple variety of intensities and movement patterns to glean a basic knowledge of alignment while in motion. Discover how alignment vocabulary cues empower both the class and the individual creating a real "group" exercise sensation. 1.0 AEA CEC
Saturday 9:45 – 10:45 am | Disco Waves
Get a refreshing blast of creative ideas to inject fun and energy into your shallow water class routines. Make your students feel like disco era superstars with Cassie's inspirational blocks of simple and effective choreography. These '70s era moves are sure to keep your classes moving and grooving! 1.0 AEA CEC
Saturday 10:45 am – 12:45 pm | Loaded Movement Training (LMT)
An emerging trend known as Loaded Movement Training is an effective way to help students and clients develop functional strength by training the muscles together as one system. LMT challenges and conditions muscles, fascia and other systems in the body. Discover how to apply LMT to your aquatic fitness program through integrating multiple-joint exercises focusing on stability, mobility, strength and power. 2.0 AEA CECs Equipment: HYDRO-FIT Cuffs and Hand Buoys
Saturday 2:00 – 4:00 pm | Hand Buoy ABCs (Aerobic, Balance, Core)
Aerobic stimulus + Balance training + Core strengthening. Discover how a triple training focus brings more to your water workouts. Learn and experience three segments illustrating contrasting use of Hand Buoys to address a variety of fitness levels. The aerobic segment demonstrates power moves, the balance section uses buoyancy to practice functional poses and the core segment trains for proper posture and alignment. 2.0 AEA CECs Equipment: Mini Hand Buoys and Noodle Buoys
Saturday 4:15 – 6:15 pm | AquaLogical Legs
Its absolutely aqua logical. Our legs take us where we want to go! Review pelvis and hip anatomy to better understand effective ways to harness buoyancy and resistance using diagonal movement patterns to train the legs for increased strength and stamina. Discover how incorporating various impact levels with intensity progressions creates additional challenge to develop improved function. 2.0 AEA CECs Equipment: Mini Cuffs and WAVE Webs
Sunday 8:30 – 10:30 am | Newton Goes Deep
Go deep and review Newton's Laws from the "wet" perspective. Learn how to modify and apply intensity alterations specific to the deep water environment using the principles of inertia, acceleration and action/reaction. Expand your ability to provide effective progressions and regressions that fully utilize the water's unique properties. It may seem simple, but there's a lot beneath the surface to know and understand. 2.0 AEA CECs Equipment: WAVE Belt, Cuffs and WAVE Webs
Sunday 10:45 am – 12:45 pm | Deep Water Running (DWR)
Running is an excellent form of exercise on land—and in the water. But it's different. Learn the core elements of teaching proper running form and technique in the zero-impact environment of deep water. This session examines how to expand DWR and take it to new levels by incorporating complimentary "vertical swim strokes" to challenge all the muscles and systems in the body. 2.0 AEA CECs Equipment: WAVE Belt, Cuffs, Pool Saddle and WAVE Webs
Sunday 2:00 – 4:00 pm | Deep ABC Training (Angles, Balance, Core)
Use deep water to the MAX! Explore varied working positions using the limbs to stabilize and de-stabilize the body in both symmetrical and asymmetrical patterns. Investigate progressive exercise through 360° to ensure muscle balance and joint integrity. Experience how soft and sequential patterns integrated with rigid and power moves come together to create optimal fitness benefits. 2.0 AEA CECs Equipment: WAVE Belt and WAVE Webs
Sunday 4:15 – 6:15 pm | Deep H2O Tool Box
Gear up, get wet and expand your aquatic tool box. Experience a variety of mini-routines designed to recharge and refresh both your teaching skills and deep water choreography. Learn how to target specific muscles groups and training objectives with functional exercises that balance the overload equally around the body. Upper body, lower body, core and more—these mini-routines are guaranteed to easily snap into your existing choreography and pump up your classes. 2.0 AEA CECs
Presenters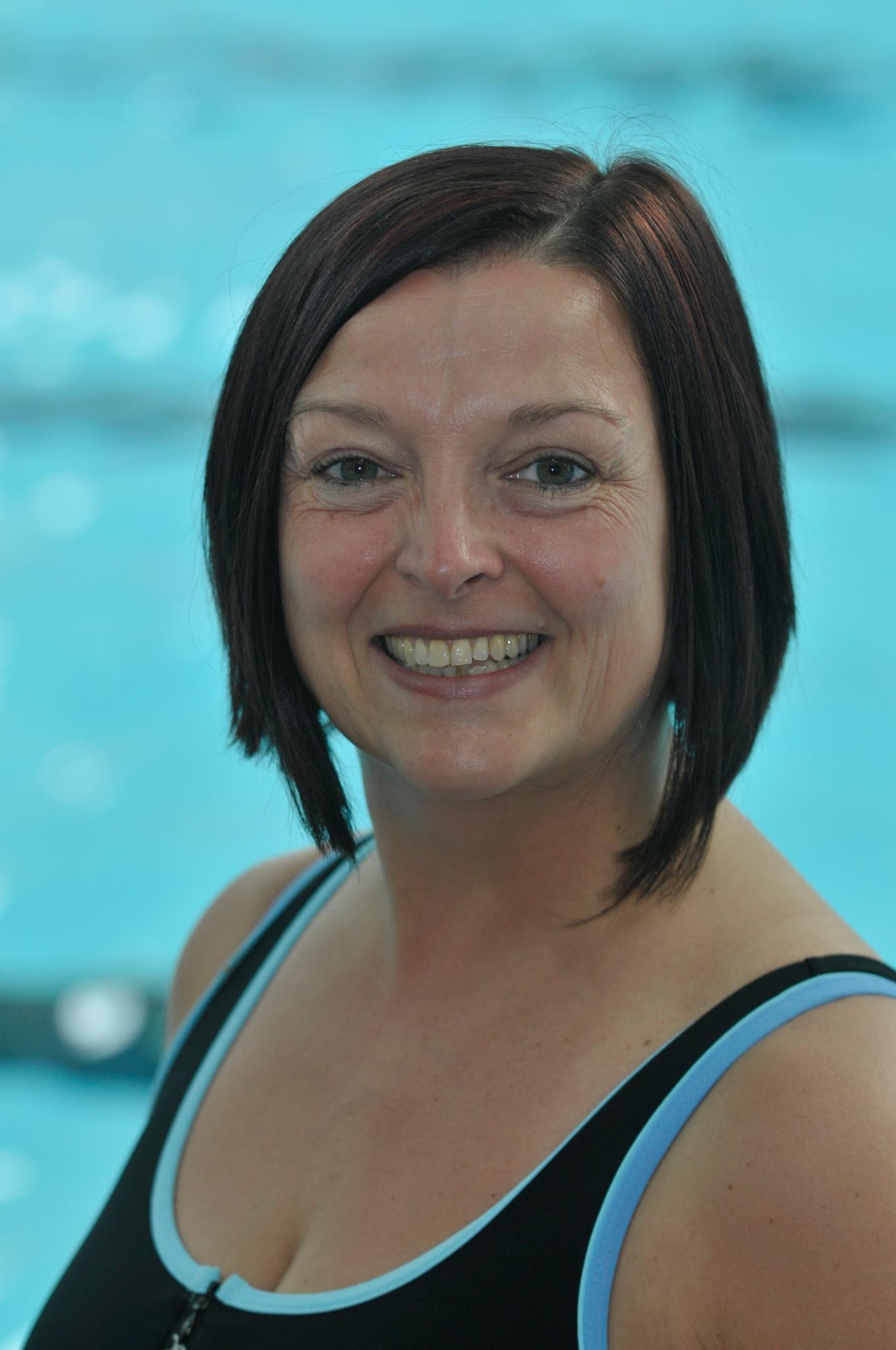 Cassie Biddulph has more than 20 years experience teaching aquatic fitness and is a tutor and presenter for Hydro-Actif in the UK. Cassie is firmly committed to delivering fun, functional and motivational classes to suit all levels. As a dance and choreography specialist, she is passionate about creating classes that are inclusive and inspirational.
Marilyn Hinson holds a BFA from The Juilliard School and an MA from UCLA in dance. She has danced and choreographed professionally and developed dance programs at Missouri Valley College as an Assistant Professor. Marilyn has been in the fitness industry for 25 years in many capacities. She is AEA, ACE, PMA, GYROTONIC® and GYROKINESIS® certified. She is currently completing her certification as an Eating Psychology Coach through The Institute for The Psychology of Eating. She is the owner of the Movement Studio at The Downtown Athletic Club in Eugene, OR, and the co-creator of the HYDRO-FIT Pool Pilates workout.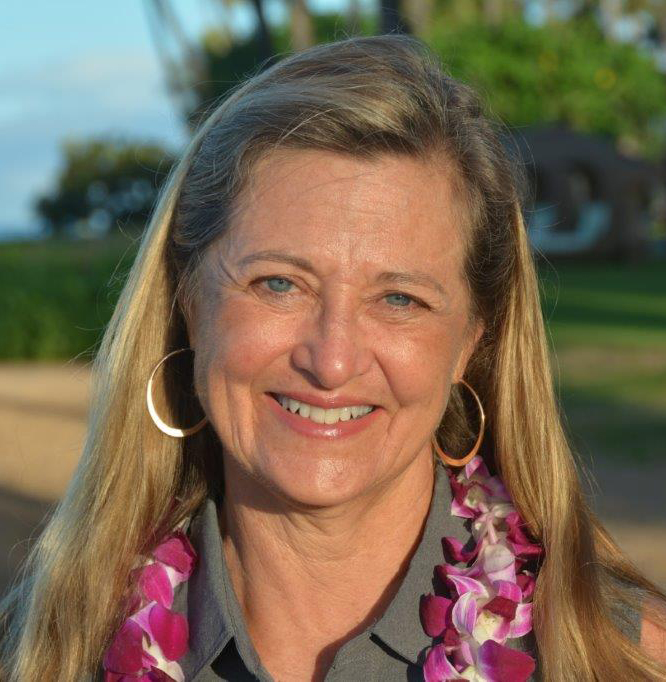 Terri Mitchell has committed her livelihood to aquatic fitness, therapy and wellness for more than 25 years. She is a Physical Therapist Assistant, specializing in outpatient aquatic physical therapy. Terri is an international presenter for ATRI, AEA, and an AquaStretch Instructor Trainer. She is the recipient of the 2010 Aquatic Therapy Professional Award from ATRI, the 2001 Dolphin Award from the Aquatic Therapy and Rehab Institute and the AEA's 1992 Aquatic Fitness Professional of the Year. She lives and works in Austin, TX.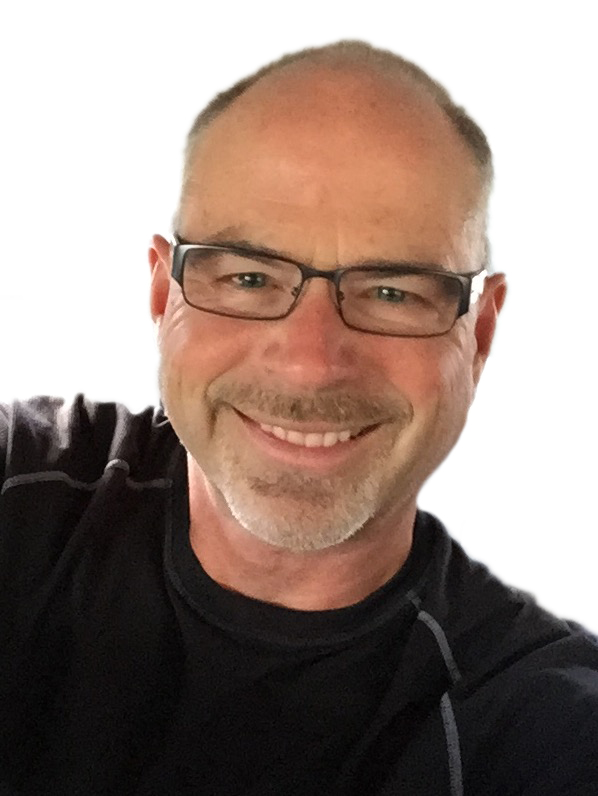 Craig Stuart is the founder and President of HYDRO-FIT. Certified with AEA, Craig has more than 25 years of experience leading and directing aquatic fitness programs. He is the star of several acclaimed water fitness DVDs and a member of the fitness staff at Mexico's award winning Rancho La Puerta Health & Fitness Spa. Craig is well known for his innovative teaching techniques and energetic presentation style.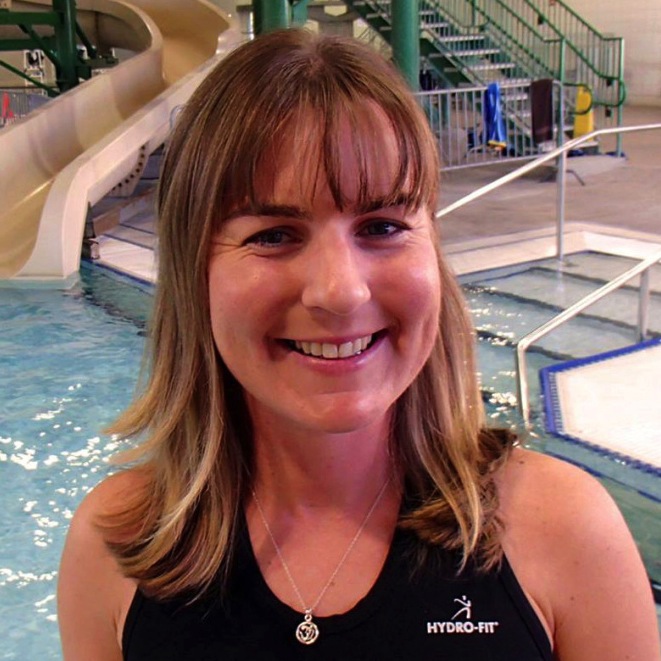 Lori Templeman, BA, is the owner of Fitness Temple in Sacramento, CA. She is a group fitness instructor, AquaStretch™ facilitator and personal trainer. Lori is an AEA national presenter and travels the country leading aquatic fitness programs. She is also a successful freelance writer featured in various fitness publications. Lori's certifications include AEA, ACE, AFAA, and Arthritis Foundation.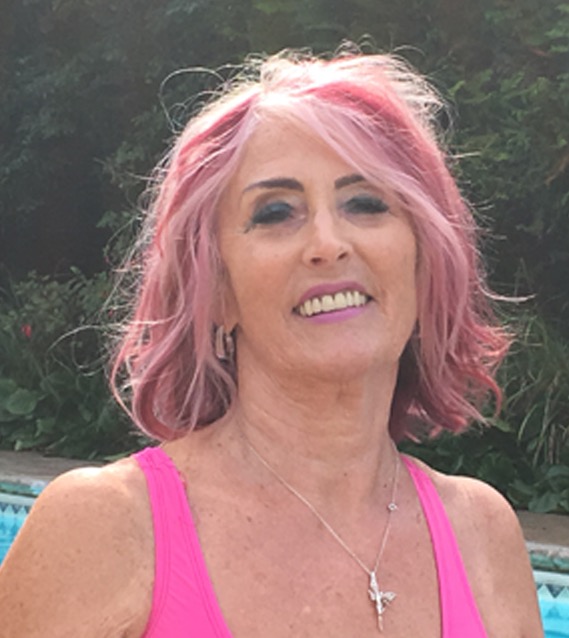 Steph Toogood is an AEA Training Specialist in the UK and founder of Hydro-Actif Ltd, the UK's leading team of water exercise educators. Steph is the star of 11 fitness videos and has 25 years experience teaching and creating water exercise programs focusing on aging well. She is a regular presenter for AEA, HYDRO-FIT, IDEA and ATRI. Steph is the recipient of AEA's Global Award for Education Excellence and the UK's Fab after 50 Health Achiever. She has been named one of the top 10 fitness instructors in the UK.
CECs and Tuition
Continuing Education Credits
HYDRO-FIT is an approved education provider for the Aquatic Exercise Association (AEA). Upon successful completion of the Full Academy Weekend, participants earn a HYDRO-FIT Specialty Certificate* and 16.0 AEA Continuing Education Credits.
*HYDRO-FIT Academy does not offer certification
Tuition
Tuition for the Full Weekend (16.0 CECs) is $345. Single Day (8.0 CECs) tuition is $195. Individual Workshops (2.0 CECs) are $75 each (please call for availability). Tuition includes all courses, lecture sessions, practical classes and course materials. In addition, Full Weekend and Single Day tuitions include a nutritious lunch each day and healthy snacks throughout the day.
Payment
We accept VISA, MasterCard, Discover and AMEX for online registrations. For all other forms of payment including personal check and facility purchase orders, phone-in registration is available by calling 800-346-7295 Monday–Friday, 7:00 am–5:00 pm Pacific Standard Time.
Cancellation
You may cancel or modify your registration without any penalty/change fee any time prior to September 8, 2017. After September 8, all cancellations will be subject to a $75 processing fee.
Travel Details
Hotel Accommodations
Special rates are available at our conference hotel, the Springfield Village Inn, located less than a mile from the Willamalane Park & Swim Center. Mention "FIT HYDRO" when making your inquiry or reservation to receive a special discounted room rate of $79.99 + tax ($89.03 total). The special discounted room rate is good Friday, September 22 through Sunday, September 24, 2017.
Springfield Village Inn
1875 Mohawk Blvd.
Springfield, OR 97477
(541) 747-4546 or (800) 327-6871
www.springfieldvillageinn.com
Travel
Eugene's airport (EUG) is the nearest to Willamalane Park & Swim Center—located 15 miles away. Portland International (PDX) is 125 miles away. The Willamalane Park & Swim Center offers ample and free off street parking.
Meals
If you are registered for the Full Weekend or a Single Day, a nutritious lunch is included each day. Vegetarian and gluten free options are available. In addition, a selection of healthy snacks is provided to all participants throughout the weekend.
What To Bring
The Academy curriculum includes lectures and in-pool activity sessions. Within each day you will transition wet-to-dry and dry-to-wet multiple times. Please come prepared. We recommend you bring: 2–3 swimsuits, 2 sets of casual exercise wear, aquatic fitness shoes, aerobic fitness shoes, 2–3 towels (our host facility does not provide towels), pullovers and warm-ups and a personal refillable water bottle.
Registration
or BY PHONE 800-346-7295
Full Weekend | 16.0 AEA CECs | $345
Single Day | 8.0 AEA CECs | $195
Save
Save
Save
Save
Save
Save
Save
Save